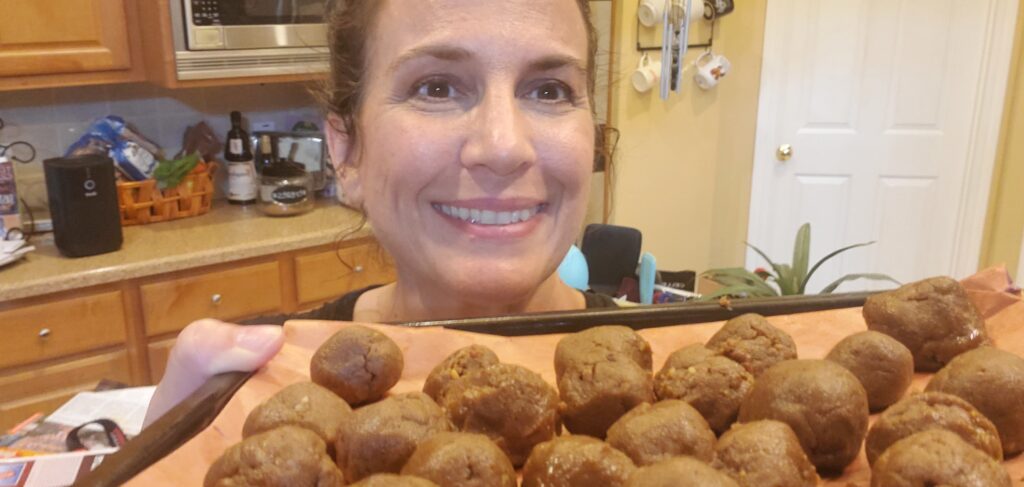 PUMPKIN PIE ENERGY BALLS
Servings: 18 (1 serving = 1 ball)
INGREDIENTS:
OPTIONAL TOPPING:
3 Crushed Graham Crackers or Gluten Free Graham Crackers
DIRECTIONS:
1. Mix together your almond butter, pumpkin puree, maple syrup, and vanilla extract until smooth.
2. Add in the protein, coconut flour, pumpkin spice, and white chocolate chips until the mixture is fully combined and there are no clumps. The dough will be a little wet, but if it's too sticky to work with, add an extra tbsp of coconut flour until you reach the desired consistency.
3. Roll the dough into roughly tablespoon-sized balls for a total of 18.
4. Optional – If you'd like to, you may roll the balls in the crushed graham cracker.
5. Refrigerate the energy balls for 15-20 minutes before serving.
*Can be stored in the fridge for up to a week.
MACROS PER SERVING:
Calories: 145
Protein: 6g
Carbs: 10g
Fat: 9g